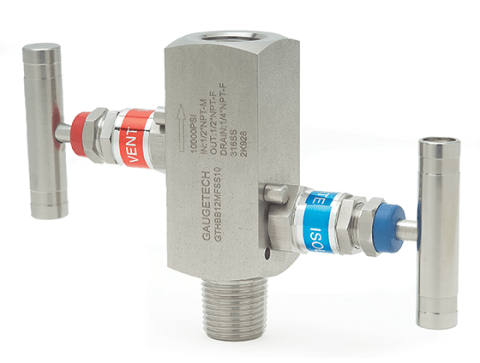 Hard seat, 316SS, 1/2" NPT
6,000 and 10,000 psi
Gaugetech® Block & Bleed Valves are supplied in 316L stainless steel. GTHBB series valves are produced with a 1⁄2" MNPT process connection and female 1⁄2" NPT instrument connection. GTHBB series valves are designed with a metal seat for severe working conditions. All block & bleed valves come standard with a 1⁄4" NPT side drain port.
FEATURES
Non-rotating stem plug moves axially into and out of the seat without rotation to eliminate seat galling.
The stem threads are rolled and lubricated to prevent galling and reduce operating torque.
Valves are assembled with standard t-bar handles.
All bonnets are assembled with a locking pin to prevent accidental removal while in service.
Teflon® packing can be adjusted to increase valve life.
Stem packing below the threads prevents lubricant washout and ensures no process contamination.
The valves feature safety back seating to ensure a secondary stem seal.
Dust caps are fitted to contain stem lubricant and prevent the ingreass of contaminants.
All valves are hydrostatically tested to 1.5 times maximum working pressure prior to shipment.
The valves are Mill Test Traceable.
Standard valve on manifold has a 4.8mm orifice size. Cv 0.52 MAX
316SS material traceable to NACE MR0175.
AB CRN# OC08236.2
BC CRN# OC08236.21
SK CRN# OC08236.23